Advanced Door Technologies
design to manufacturing, installation and service
Loading Dock & Rolling Door Accessories
Dock Seal
Compression dock seals with curtain style head member and oam filled side pads provide an effective seal and the most economical solution for door sizes 10' and higher.

Dock Bumper
Our laminated dock bumpers are the answer when vehicle damage to buildings, loading docks and cargo is occurring. Put a stop to it with these heavy-duty bumpers. Each is constructed of tightly sandwiched pads of fabric truck tires, which are shaped and bound by support rods and steel plates or angles. We supply a variety of models.

Vinyl Strip Weatherseals
All three types of Vinyl Strips are UV stabilized to prevent yellowing and are resistant to most inorganic acids, bases and salts. Plus, they are all GSA approved for federal government purchase.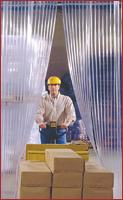 Audible/Visible Warning Devices
Mounting Accessories/Hardware