Advanced Door Technologies
design to manufacturing, installation and service
Model 125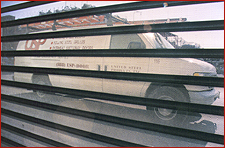 This roller shutter door is called the Furnish Rolling Steel Gates Series 125. This roller shutter door is manufactured by "ATD" complete with curtain, hood, guides, counterbalance, and the options as specified below.
Operation
Manual lift
Internal central motors
Details About This Rolling Door
The curtain consists of interlocking slats cold rolled formed from the galvanized steel clamshell profile (SP4). The slat thickness shall be calculated with U.S. gauging with a minimum of 22ga. for doors up to 22 feet and 4 inches wide. The steel slats are to be galvanized as per A.S.T.M. A653. Each curtain shall receive a bottom bar to maintain the slat alignment and posture.
The bottom bar shall consist of an interlocking slat carriage bolted to a 2 inches x 2 inches x 1/8 inch hot rolled angle. The lifting handle is also centered.
The spring counterbalance is computer designed and using ATD Helical Power Pack springs. The housings rotates around a fixed pipe shaft using steel cup bearings.
The guides are rolled and formed from 11 gauge steel into a 2 1/2 inches deep channel with 3/8 inch returns. Guide is field welded to mounting angle, minimum 2 inches x 2 inches x 1/8 inch hot rolled.
The hoods shall consist of #24 U.S. gauge steel. The hoods are designed to protect and house counterbalance assembly.
Each end bracket plate shall be of sufficient gauge to minimize deflection. Each plate has welded angle pipe support to accept spring shaft assembly.
The locking uses "HASPS & PINS," a galvanized steel pin padlocked to a steel hasp welded to the track. For other locking mechanisms see "LOCKS".
The finished all exposed non-galvanized surfaces shall receive a shop coat of rust inhibiting primer. The field painting is not included in this section.
Installation is to be by ATD or by an authorized dealer.
Options:
Sloping bottom bar
Kick plate using 4SC slats
Bolted assembly
Slat locks
Security panel
Panic release (motorized)
Remote control (motorized)