Advanced Door Technologies
design to manufacturing, installation and service
Model 750
ADT Rolling Steel Fire Shutters are designed to automatically close in case of fire and stop it from spreading from one area to another for a maximum of 3 hours. Doors up to 159 sq. ft. in area and up to 13'6" in width or 12'0" in height are manufactured with UL Labels Class A, B, or C. Although UL rated and automatically closing, they can still be used as counter shutters.
Furnish Rolling Shutter, series 750 as manufactured by "ADT" complete with curtain, hood, guides, counterbalance and options as specified.
Highlights
UL,3,1 1/2 and 3/4 hour labels
Smoke protection available
Automatic closing during fire
Viscous Governor Technology
Bent Steel Guides
Fusible Link
Oversized shutters up to 20' wide
Operation
manual lift
external motors
hand crank with or without automatic testing
tubular motors with or without automatic testing
FDCL-1000 Automatic Resetting Fire Door Operator
PDF's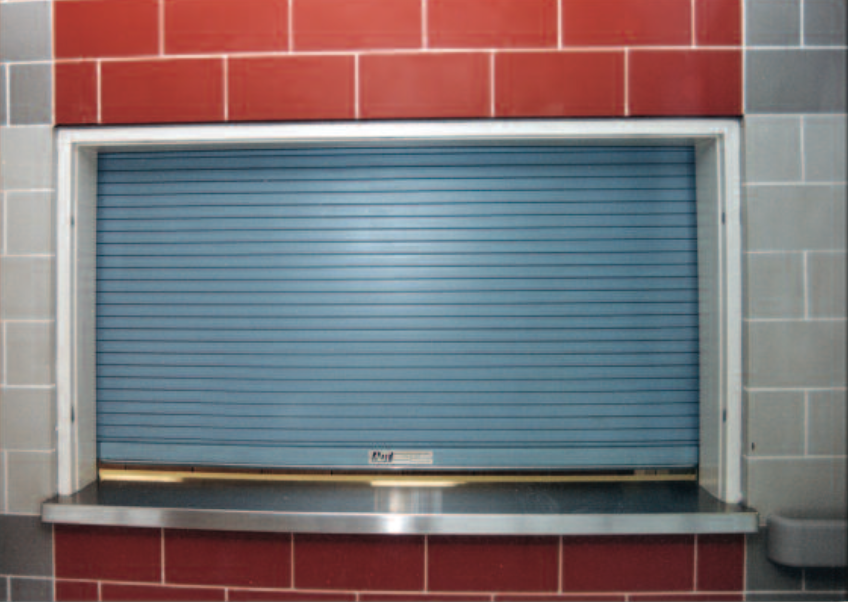 Curtain Model 750 consists of interlocking slats cold roll formed from hot dipped galvanized steel with optional baked on grey polyester enamel coating or 304 stainless steel with a #4 finish flat profile SF1. Each end of alternate slats are to be assembled with galvanized steel end locks to maintain slat alignment and to act as a wearing surface inside the door guides. Slat thickness shall be calculated with U.S. gauging with a minimum of 22 gauge. Steel slats are to be hot dipped galvanized as per A.S.T.M. A653. Each curtain shall receive a bottom bar to maintain slat alignment and posture.
Bottom bar shall consist of two steel factory painted angles a minimum 1/8″ thick. Bottom bar shall be provided with a lift handle and slide bolts.
Spring counterbalance is to be housed in a steel pipe of the appropriate diameter and wall thickness as to support curtain. Deflection shall be limited to a maximum of .03″ per ft. of door width. Springs are to consist of helical torsion type designed to meet a 25% safety load factor. Safety factor allows for safe operation, ease of use, and longer spring life. Springs are to be grease packed and anchored, using a cast iron anchor, to a cold rolled steel inner shaft. Spring tension shall be fully adjustable from outside of end bracket plate. To insure smooth operation end bracket plates shall contain sealed ball bearings to minimize wear of pipe shaft.
End bracket plates shall consist of factory painted steel plates no less than 1/8″ thick. Bracket plates are to house pipe shaft and counterbalance assembly. Shaft is attached to plate by sealed ball bearings fitted onto plate.
Drop Mechanism consists of a viscous speed governor, which controls the door's rate of descent in emergency mode. The viscous governor is self adjusting and provides a smoother and quieter rate of descent within the NFPA 80 specification of 6" to 24" per second. The automatic drop mechanism may be activated by a fire alarm, smoke or heat detector, or a melting fuse link @ 165º (74ºC)
Guides shall consist of bent steel shapes a minimum of 2-1/2" deep and 1/8" thick. Guides will bolt together and feature a removable door stop. The guide depth shall be of a length adequate to provide for proper slat penetration.
Hoods shall consist of a minimum of #24 gauge hot dipped galvanized steel with a baked on grey or bronze polyester enamel coating. Hoods are designed to protect and house counterbalance assembly. To prevent hood sag, intermediate supports shall be furnished as required.
Locking for manual and crank operated doors to be slide bolts mounted on bottom bar with provisions for padlocks. Gearing within motors to be self locking.
Finish all non-galvanized surfaces shall receive a factory coat of rust inhibiting enamel. Field painting not included in this section.
Installation to be by ADT or by an authorized dealer.
Options
Baked on grey polyester enamel slats
Stainless steel slats
Poly-cote® polyester powder coating, 200 select colors
Tubular bottom bar
Cylinder locks
FDCL-1000 Automatic Resetting Fire Door Operator with Battery Backup
LM90 Fire Control System
Smoke Detector
Sounder
Strobe Light
Voice Warning
Flame Stop Baffle
UL Seals