Advanced Door Technologies
design to manufacturing, installation and service
Releases
PDF's – Model FDC Series Brochure
Each Advanced Door Technologies fire door release device serves as an interface between the smoke detection system and fire door. As the central control, the fire door release system receives and interprets all signals to instruct the fire door and all warning devices to act appropriately.
Advanced Door Technologies offers a choice of three different models, for both motorized and non-motorized applications. For motorized applications, the appropriate release device works in conjunction with a standard, commercial electromechanical or solid-state operator to create an enhanced, yet economical, fire door operating system. All devices ensure the continued protection and code compliance for the fire door or shutter by enabling routine operation inspections without activating the primary alarm system and without disturbing building occupants. All our fire door release devices are C-UL-US, FM, and CSFM listed and are compliant with the NFPA 80 requirement for a fail-safe door holder/release device.
LM21AFCB
Advance Fire Control Release Device
The AFCB fire door release device is designed to be used in conjunction with a standard commercial door operator to provide a fully automated door closing system.

LM21XPBB
Extended Performance Release Device
The XPBB release device functions as a localized fire alarm system and can operate on 120VAC, 24VAC, or 24VDC power sources.

LM21XP
High Performance Release Device
The XP fire door release device provides a fail-safe release mechanism for non-motorized doors and acts as an interface between the door and fire alarm system.

Chain & Crank Reset Device
PDF – Download Brochure
System Advantages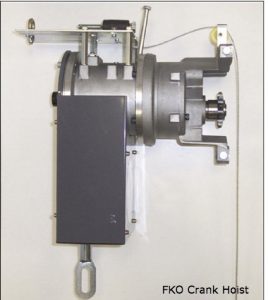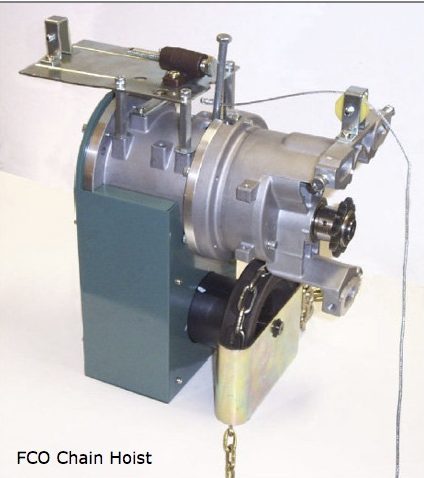 Provide fire protection simply and safely without resetting spring tension or re-engaging the operator drive after testing. These manually operated FCO/FKO systems open via a chain or crank device and include stop and hold feature that prevents back winding – no matter what the position of door travel. Brake release activation allows the door to close while routinely testing the governing closing system. And normal or automatic closing speed is always safely controlled not to exceed 9" per second.
Automatic closing fire protection is achieved by melting of a 165 fusible link. With the use of an optional fail-safe release device, activation by local detectors or a central alarm is also available. After testing, resetting any FCO Chain or FKO Crank requires only replacement of the fusible link or re-engagement of the drop bar at the release device before the system is again ready for normal or automatic operation.
Benefits
Simplified testing and resetting of automatic closing system
Spring tension is not released when the fire door is closed automatically
Lower testing and maintenance costs than conventional spring release fire door systems
Fire door resetting only takes minutes to perform by facility personnel
Minimal opening downtime – doors are easily reset to the open position following alarm or power failure closing
Safe / controlled / consistent closing speed
UL approved for use with ADT fire doors and fire counter shutters
Can be retrofit to existing fire products
Operator safely stops curtain at any position – will not back wind
Daily operation units provide opening security in addition to the fire protection
Costly power wiring to the opening is not required
Cable release to close / Hand chain or crank to open
Product Applications
Maximum width of 30'-0" / maximum height of 24'-0" for FCO and 12'-0" for FKO
Consult with factory for daily operation units larger than 210 sq feet
FCO Chain recommended for units with exposed guides and for fire doors in excess of 12'-0" tall
FKO Crank units recommended for finished or recessed applications
Options
Local detector or central alarm activation with use of a fail-safe release device
Advanced warning annunciators with use of a fail-safe device
Locking mechanisms
Operator cover